Howard Templer: award-winning School of Education alumnus with "the best job in the world"
Meet a Chicago-area teacher who earned the Golden Apple Award
In May 2011, the Chicago Public Schools (CPS) honored Howard Templer with the Golden Apple Award, the most prestigious honor for teaching excellence in the school corporation. Templer is a 2006 graduate of the Indiana University School of Education.  He earned a degree in elementary education with high distinction in 2006 and has shown continuing promise in the classroom.

Templer earned the award while teaching at Braeside Elementary in the Chicago suburb of Highland Park. In earning the Golden Apple Award, he also earned continuing professional development, which included a year of teaching sabbatical while taking coursework at Northwestern University. Now back in the classroom, he's the "STEM Teacher," teaching across subjects related to science, technology, engineering, and math, at Edgewood Middle School also in Highland Park (where he is now teaching many of the same student he taught previously in elementary school).

Many of the students attest to Temper's unique ability to reach them. "Mr. T makes it come alive for us; we don't just read out loud," a student told the Highland Park Patch "When he teaches it, we always remember it. He makes it fun."

The students particularly raved about a project where students made minerals in science class. "We put salt in hot water with food coloring to make rocks," Templer said. He added that much of the creativity that he brings to the classroom started in a physics class for teachers at IU.  "I've stayed in touch with the teacher," Templer said. "That teacher is the one who helped me with the electric lightbulb and the rocks and minerals."

In this short video, Templer speaks about his teaching style, how the experience of the IU School of Education shaped his career, and why he loves teaching.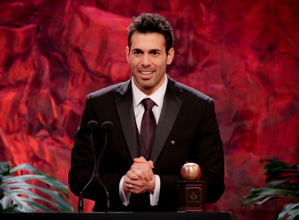 Howard Templer speaking after accepting his Golden Apple Award at ceremonies in Chicago held Oct. 21, 2011 (courtesy Golden Apple Foundation).