U.S. News online education program rankings list School of Education as one of the best
School is highest-ranked Big Ten institution
The IU School of Education is 14th overall in the U.S. News & World Report "Best Online Graduate Education Programs" rankings, highest among Big Ten schools of education. Education programs earned their rank based on scores from four categories:   admissions selectivity, student engagement, faculty credentials and training, and student services and technology. U.S. News compiled data from 208 institutions that offered a master's in education degree through Web-based distance education courses.
The IU School of Education ranked highly in the first U.S. News online rankings for education published last year. The 2012 rankings did not include an overall listing of top institutions, only rankings within each of the four scored categories. The School of Education placed in the upper tier of institutions in each of the four categories last year.
"We are very proud of the leadership role our faculty has played in the development of high quality online programs nationally," said Gerardo Gonzalez, dean of the IU School of Education.  "We were one of the first major research universities studying and offering online education in what is now a commonly accepted and increasingly important mode of instruction.  I'm delighted U.S. News & World Report is focusing attention on the field of distance education and has recognized the quality of our online programs in both of their initial annual rankings."     
Online courses and degree programs began at the IU School of Education in 1999. The School began offering IU's first completely online doctorate last fall, the Ed.D. in instructional systems technology. Through IUconnectED, students can take a variety of courses to earn credentials ranging from professional certificates to master's degrees and online doctorates. IUconnectED is a Web portal that conveniently coordinates access to the school's online learning programs, including graduate-level courses and programs from the Bloomington and Indianapolis campuses.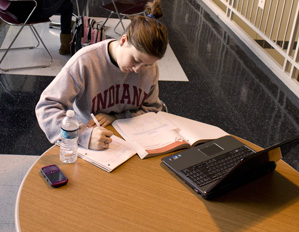 In two years of ranking online education programs, the IU School of Education has been ranked highly each of the two years by U.S. News & World Report.