Inspiring, encouraging words mark convocation ceremony
Speakers reflect on challenge of teaching, learning, in face of shocking events
The Indiana University School of Education celebrated its December 2012 graduates during a convocation ceremony on Saturday, Dec. 15, marked by stories of inspiration and hope from the speakers. The ceremony for 33 undergraduate, 11 master's, and two doctoral students came just a day after a terrible shooting at an elementary school in Newtown, CT left 26 dead, mostly schoolchildren.
Dean Gerardo Gonzalez advised the graduates to look for the potential in themselves and in their students, noting improbable stories of success that have come from IU School of Education alumni. Gonzalez spoke of 2012 Indiana Teacher of the Year Melanie Park, BS'93, MS'01, who rose from once being homeless to now serving as a spokesperson for best teaching practices. But the Dean reminded the audience that Park had inspiration from her own classroom. "She had a teacher who found the key to her success," Gonzalez said. He encouraged all of the graduates to be the educators who find the keys to success for all they encounter.
Graduate speaker Daniel J. Abbott also provided an inspiring story, one he knew very well. Already a professor of special education at Butler University, Abbott collected his PhD in special education on Saturday. But his current success seemed far away when he was a child in Gary, IN. Abbott spoke of growing up in poverty, never imagining that he might make it to college, much less earn an advanced degree. Abbott earned a degree at Butler and began working with special needs children in the Indianapolis schools, but said he felt something was missing. "I wanted to find a way to give back so that others could make it as well," he said. To do that, Abbott entered the master's program and continued through to earn his doctorate. "So if you have a kid in your class, and it seems the obstacles are stacked too high for them to achieve, just remember that little kid who came from an impoverished background, raised by a single parent, who later went on to possess a PhD," he said.
The speaker for the undergraduates reflected what was likely prominent on the minds of many in the audience, the deadly school attack just the day before. Rebekah Sims, earning bachelor's degrees in both special education and English education, quoted from Parker Palmer, who wrote The Courage to Teach. "The more we love teaching, the more heartbreaking it can be," Sims quoted from Parker. She then offered advice for new and veteran teachers.
"The school shooting at Sandy Hook Elementary School yesterday is one of those moments when the heart is asked to hold more than it seems possible," Sims said. "Yesterday, we were reminded that the courage to teach can mean facing extreme violence and danger. The students, teachers, staff, and community members who responded to the school shooting showed great courage when violence threatened to rip the fabric of their community apart. The courage to teach involves not only teaching our content areas, but it also involves the courage to be with our students through struggle as well as triumph, and to share in extreme pain as well as joy."
Sims reminded her audience of the role of a teacher. "In the face of this situation, we are reminded again of the urgent necessity to create communities based on kindness and respect, and we cannot give up on this hope even when what we build up is ripped apart," Sims said. "We have to continue to do the hard work of teaching and caring for our students, so that they can grow up ready to engage with the world in peaceful and productive ways." In conclusion, she summed what the hard work of teaching means in the face of such tragedy. "I believe that to put our hearts and souls into teaching is to fill our lives with meaning," Sims said, "so that the quality is indeed immeasurable."
You can read the entire text of Sims' speech here. An archive of the streaming video from Saturday's ceremony is available here. Photos from the convocation are here, on the IU School of Education Facebook page.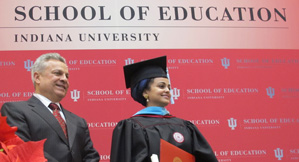 Dean Gerardo Gonzalez (left) with Sara Albadi, who received her master's degree in art education during the IU School of Education convocation ceremony on Dec. 15, 2012.