IU School of Education dean named to annual list of Hispanic Business Influentials
Hispanic Business has named Indiana University School of Education Dean Gerardo Gonzalez to its 2012 list of "Hispanic Business Influentials," which recognizes prominent U.S. Hispanics, nominated because of outstanding achievements in their respective professions.

The list of 50 includes honorees in business, government, executive leadership and entrepreneurship from across the country. Hispanic Business has announced a list of 50 influential Hispanic leaders annually for the past 30 years.

For 35 years, Hispanic Business magazine has been the premier source for the latest research, trends and reporting on the growth of the U.S. Hispanic consumer market and the Hispanic enterprise and professional sectors. Starting in April, the publication moved to an online-only format at HispanicBusiness.com.

Gonzalez is part of an august list that includes U.S. Sen. Marco Rubio, U.S. Secretary of Labor Hilda Solis and San Antonio Mayor Julian Castro, as well as members of the U.S. House of Representatives. Gonzalez is one of four education leaders selected. Angel Cabrera, president of George Mason University, Mildred Garcia, president of California State University-Fullerton, and Nilda Peragallo, dean of the School of Nursing and Health Studies at the University of Miami, also made the list.

"Considering there are more than 50 million Hispanics living in and contributing to the U.S. economy, this is a humbling honor," Gonzalez said. "Although I believe that in a democracy leaders have a special responsibility to speak openly, truthfully and forcefully on important social issues and I have done so, especially when it comes to education, I have never considered myself as having undue influence. My designation as one of this year's Hispanic Business Influentials came as a bit of a surprise."

Gonzalez became dean of Indiana University's School of Education in 2000. Before joining IU, he was professor and chair of counselor education, associate dean for administration and finance, and interim dean in the College of Education at the University of Florida in Gainesville. He received his Bachelor of Arts in psychology and his Ph.D. in counselor education and higher education administration from the University of Florida.

A recognized expert on alcohol and drug education, Gonzalez is also active in multicultural counseling and education issues. He has addressed national and international groups and published scholarly works on the Cuban-American experience and Hispanic educational concerns. In March, Indiana House Speaker Brian Bosma named Gonzalez a lay member of the Indiana Commission on Hispanic/Latino Affairs, a nonpartisan state agency with a mission of working toward economic, educational and social equality, including promoting cooperation and understanding. In 2003, he received the Indiana University Latino Faculty and Staff Service Award for advocacy on behalf of educational equity and access for underrepresented groups.

Under Gonzalez, the IU School of Education has maintained overall excellence, ranking in U.S. News & World Report's top schools of education nationwide. In the most recent rankings, the school ranked 21st overall and 11th among public university graduate schools. Several individual degree programs ranked highly in specialty categories: seventh for curriculum/instruction; eighth for elementary education and higher education administration; 10th in student counseling and personnel services; 12th for secondary education; 14th for administration/supervision; and 21st in educational psychology.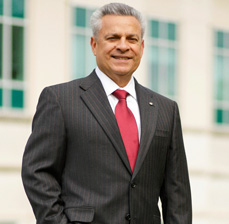 Dean Gerardo Gonzalez is one of four education leaders selected to Hispanic Business magazine's 2012 list of "Hispanic Business Influentials," recognizing prominent U.S. Hispanics nominated because of outstanding achievements in their respective professions.