New teacher education students, scholarship recipients honored

The Indiana University School of Education honored new students and some of its most outstanding students in two ceremonies on Saturday and Sunday, Nov. 2 and 3. The weekend of events is an annual marking of some of the School's newest and best students.

The annual "Call to Teach" ceremony on Saturday celebrated newly-admitted students to the Teacher Education Program. In all, the School honored 66 students and also introduced the new class of Jacobs Teacher Educators.
Three keynote speakers welcomed the new class to the Teacher Education Program. Dean's Advisory Council President Brittany Cheslyn first shared her thoughts with the new students. Cheslyn is a Direct Admit Scholar, the program that takes a highly select group of students directly into the education program upon IU admittance. The program is designed to recruit and prepare promising future teachers.

Indiana's 2012 Teacher of the Year and Indiana Department of Education Teacher in Residence Melanie Park, an IU School of Education alumna (BS'93, MS'01), gave inspiring words to the crowd packed into the Wright Education Building atrium. Park, a teacher at Riverview Middle School in Huntington, has traveled the state and the nation to give her thoughts on teaching. She maintains a blog about her thoughts and experiences, http://www.celebrateteaching.info. You can see and hear more about her in this short video from the IU School of Education YouTube page.

Assistant Professor of Literacy, Culture, and Language Education Ted Hall delivered the faculty address. Hall is originally from Fort Wayne and his specialty is in community-university partnerships, visual culture, new literacy studies, cultural studies, and critical literacy, especially as they pertain to the lives and learning of African American youth.

On Sunday, the School honored more than 130 scholarship recipients during the annual Honors Day ceremony at the Indiana Memorial Union. Undergraduate and graduate students and the donors who made the scholarships possible gathered to note the student accomplishments. Each student received individual recognition on the stage, noting their scholarship, program, and student status.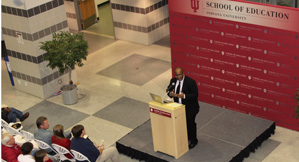 Assistant Professor of Literacy, Culture, and Language Education Ted Hall addressed the Call to Teach (photo by Sungwon Shin).