CEEP Policy Chat focuses on plans for Indianapolis Public Schools
IPS superintendent, Mind Trust founder headline discussion
Watch the full video of the CEEP Policy Chat on Urban Education on the IU School of Education Vimeo Channel, at this link.
Contrasting views on how Indianapolis Public Schools should move forward were the central theme at the Center for Evaluation & Education Policy Chat. "The Future of Urban Education in the U.S.: Where Is It Going?" was Wednesday, Oct. 31, in the Georgian Room of the Indiana Memorial Union at Indiana University Bloomington.

The keynote speakers for the event were Indianapolis Public Schools Superintendent Eugene White and David Harris, founder and CEO of the Mind Trust. White has served as superintendent of IPS since 2005, working internally on reform to improve graduation rates and academic performance. IPS reported a nearly 65 percent graduation rate last year, but the school corporation has come under fire for providing waivers to a quarter of graduating seniors who would not have earned a diploma otherwise. Long the state's largest school system, IPS has seen enrollment shrink in the past few years because of losses to voucher transfers and charter schools.

Harris' Mind Trust, an Indianapolis nonprofit with a mission to promote education reform, put forward "Creating Opportunity Schools: A Bold Plan to Transform Indianapolis Public Schools" in December. The plan calls for providing pre-kindergarten to all 4-year-olds, shrinking IPS central administration, eliminating the elected school board, establishing totally autonomous "opportunity schools" that give teachers and principals more freedom while holding them more accountable, and giving parents more school choices. White has criticized most aspects of the plan, offering a strong rebuttal and alternative vision during an April school board meeting.

"There is escalating pressure to reform Indianapolis Public Schools, and many urban school districts in Indiana and the nation, prompted by declining enrollments, dwindling financial resources and increasing levels of poverty among students, said Terry Spradlin, director for education policy at CEEP and moderator of the Policy Chat. "But the greatest pressure these schools now face is market-based school choice reform."

Other panelists included John Houser, research associate at the Center for Urban and Multicultural Education at the IU School of Education at IUPUI. Houser co-authored a review on the Mind Trust plan that painted a mixed picture of results coming from the reforms promoted in the proposal. The report "School Reform and the Mind Trust Proposal: Another Look at the Evidence" raised concerns regarding equity and democratic participation for Indianapolis students. Also participating are Jason Kloth, Indianapolis' first-ever deputy mayor of education and the former executive director of Teach for America-Indianapolis; and Tammie Barney, deputy chief of staff for the Indianapolis Chamber of Commerce. Barney has been part of the organization's education coalition work featured on the IndyEducation911 website.

CEEP, one of the country's leading nonpartisan education policy and program evaluation centers, promotes and supports rigorous evaluation and research primarily, but not exclusively, for educational, human services and nonprofit organizations. Center projects address state, national and international education questions. CEEP is part of the IU School of Education.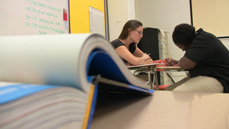 A student teacher from the IU School of Education at IUPUI works with a student in IPS' George Washington Community High School.