Dean Gonzalez presents to IU Board of Trustees
Follow-up discussion on K-12 education
At this week's meeting of the Indiana University Board of Trustees, the dean of the IU School of Education will participate in the second of a two-part discussion on the future of K-12 education in the state of Indiana.

Dean Gerardo Gonzalez, along with Provost and Executive Vice President Lauren Robel, will look at "Quality, Innovation and Impact: Preparing the Next Generation of Heroes for Our Nation's Schools" from 4 to 5:30 p.m. Thursday, Oct. 11, in the Frangipani Room of the Indiana Memorial Union on the IU Bloomington campus. The program is open to the public.

In addition to Robel and Gonzalez, professors Krista Glazewski and Gary Crow will also speak during the presentation. Glazewski is associate professor of instructional systems technology, and Crow is professor and chair of educational leadership and policy studies

The first part of the discussion was held at the board's August meeting when three nationally recognized authorities on issues facing K-12 education delivered remarks on "Forging a Better Future for K-12 Education" and engaged in a question-and-answer session with trustees.

The discussions were organized by Trustee Bruce Cole, who has noted that the intellectual and economic health of the nation is inextricably tied to the success of the K-12 educational system.

"Universities such as IU can play an important role in strengthening our schools to best prepare the next generation of teachers and more closely align education to meet the needs of the national and global marketplace," he said.

The August conversation was given over to the three visiting panelists and the board. At the time, Cole said the board would hold a follow-up program at which IU's School of Education would have an opportunity to talk with trustees.

The discussion comes as part of the board's regularly scheduled meeting, which takes place Thursday and Friday, Oct. 11 and 12. A schedule and agenda for the meeting are available online.

The Board of Trustees is Indiana University's governing board, its legal owner and final authority. The board holds the university's financial, physical and human assets and operations in trust for future generations. Its membership, terms of office, responsibilities, powers and electoral procedures are governed by the Indiana Code.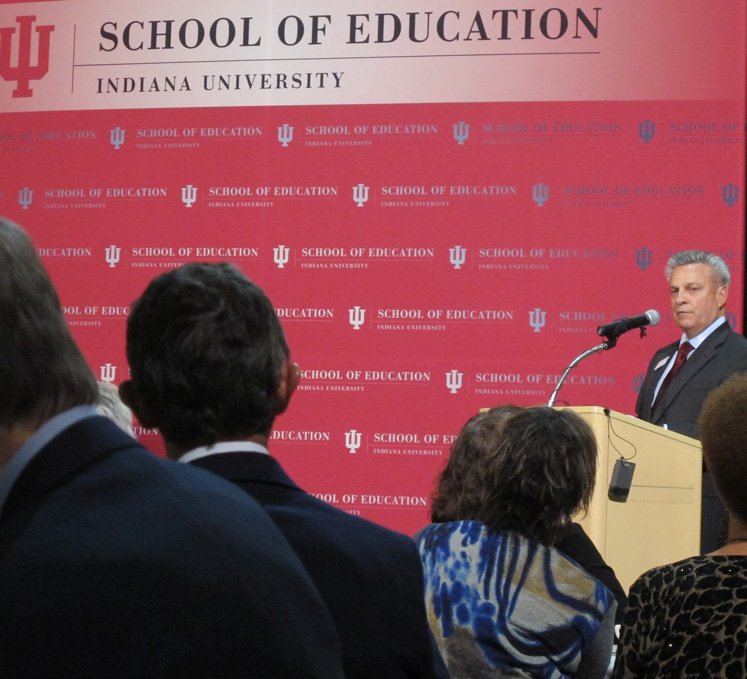 Dean Gerardo Gonzalez speaking before the IU Distinguished Alumni Awards presentation.