Distinguished Alumni Honored
Highlights and complete video of ceremony
The Indiana University School of Education honored three outstanding alumni who have, among them, had a great impact on issues of urban education, STEM education and international higher education programming during an awards dinner Friday, Oct. 5, at the Wright Education Building at IU Bloomington. The 36th annual IU School of Education Distinguished Alumni Awards honor individuals who hold a degree from the school and have made a lasting impact through their work since leaving the school.
This year's honorees included Patricia A. Payne, director of the Crispus Attucks Center in Indianapolis; Gerald O. Thompkins, director of the STEM Education and Research Center at Kent State University; and James E. Weigand, former Indiana University School of Continuing Studies dean.
"These individuals represent the very best of what we at the School of Education strive to accomplish," said IU School of Education Dean Gerardo Gonzalez. "These honorees have truly excelled in their professional and civic lives. We honor their deep commitment to education and recognize the difference they have made in so many lives."
You can see highlights from each of the recipients' remarks in this short video on the IU School of Education YouTube channel. To watch the entire ceremony, click here to view on the IU School of Education Vimeo channel.
Below is more information on the newest recipients of the Distinguished Alumni Award:
Patricia A. Payne, BS'62, MS'75, is a tireless advocate for educational equity and has made her life's work fighting for social justice. Payne earned her bachelor's degree, master's degree and administrative license from the Indiana University School of Education. She then spent 25 years as an elementary teacher before being appointed to create Indianapolis Public School's Crispus Attucks Center charged with furthering excellence, scholarship, respect and courage toward greater student academic achievement.

During the ceremony at the School of Education, Executive Associate Dean of the IU School of Education at IUPUI Pat Rogan read a statement about Payne by Indianapolis Public Schools Superintendent Eugene White, who called her a "teaching legacy." White said that from the moment he met Payne, "she stood out as a leader." Payne herself thanked many in the room and the Indianapolis community with whom she has worked so closely. 

A luminary in the Indianapolis community, Payne has made an impact around the country. Respected at the state's highest levels, she has been an Indiana State Teachers Association board member and committee chair. Indiana Gov. Evan Bayh appointed her to serve as a commissioner on the Teacher Education Licensing Study Committee. Nationally, Payne has served on the National Education Association's board of directors, chairing numerous committees including the Black Caucus and Minority Affairs Committee.

Heralded by many for her extraordinary work, Payne was the 1984 Indianapolis Public Schools Teacher of the Year and an Indiana State Teacher of the Year finalist. She has been honored by countless organizations including the Indiana Civil Rights Commission, the Atlanta-based Martin Luther King Institute for Social Change, the Indiana Black Expo and the NAACP. In 1990 she received an Honorary Doctorate of Humane Letters from Martin University founder and civil rights visionary the Rev. Boniface Hardin.


Gerald O. Thompkins, BS'70, MS'77, was born in Harlem but grew up in Indianapolis. He earned his Bachelor of Science and Master of Science from the Indiana University School of Education, and his Ph.D. from Michigan State University. Thompkins is the recently appointed director of the STEM Research and Education Center for Kent State.

"A great deal of responsibility comes with this award," Thompkins noted in receiving his honor. He said he appreciated the encouragement he received from School of Education faculty, noting particularly Michael Cohen, professor emeritus in science education, as someone who pushed him to do his best.

Formerly the associate dean for student affairs at Wayne State University College of Engineering, Thompkins has a portfolio that includes enrollment management, business development partnerships, cooperative education programs and international student exchange programs. He also directed the Center of Academic Excellence in National Security Intelligence Studies and the Michigan-Louis Stokes Alliance for Minority Participation. Previously, he was director of engineering programs at Michigan State.

Thompkins is also a retired commander from the United States Navy, serving throughout the United States, Iceland and Japan. His 22-year naval career began as an intelligence officer and subsequently as a training officer for an Anti-Submarine Warfare Operations Center unit. He was later promoted and served as a commanding officer for the Navy's Law Enforcement and Physical Security Unit in Selfridge, Mich. Commander Thompkins' awards include the Navy Commendation Medal, National Defense Service Medal, Navy Achievement Medal, Armed Forces Reserve Medal, Air Force Organizational Excellence Award, Recruiting Gold Wreath Award and various unit and service ribbons.


James E. Weigand, EdD'64, is an energetic ambassador for education -- science education, international education and continuing education -- and has truly impacted lives all over the world. Earning his doctorate from the School of Education in 1964, Weigand has spent his career as one of Indiana University's greatest advocates, serving as professor in the School of Education, as assistant to three Indiana University presidents and as dean of the School of Continuing Studies. Even in retirement, his contributions to the university continue, serving as special assistant to the Indiana University Foundation president, a role he maintained until 2012.

Weigand noted several people who inspired him, including the legendary IU president and chancellor Herman B Wells. He said he thought it was an important measure that when the campus built the Wright Education Building in the 1990s, it kept a signature feature of the building entrance that was on the old School of Education facility:  a quote from Caleb Mills, one of the fathers of Indiana's public education system, that reads "A teacher must inspire as well as instruct." "You never know who you're going to inspire," Weigand said. 

Through Weigand's extraordinary service to the field of education and Indiana University, he has touched thousands of lives all over the world -- preparing future elementary science educators, guiding master's degree candidates, supervising doctoral candidates and establishing Indiana University programs in Iran, Saudi Arabia, Mexico, South Africa, Malaysia and Thailand.

His accomplishments are widely acknowledged, having received numerous outstanding teaching awards from Indiana University, the National Science Teachers Association's Distinguished Achievement Award, the National Continuing Education Association's Distinguished Award and the Sagamore of the Wabash from Indiana Gov. Evan Bayh. In 2006, Weigand's legacy of service was recognized with Indiana University's Distinguished Alumni Service Award, the highest honor bestowed upon an alumnus of Indiana University.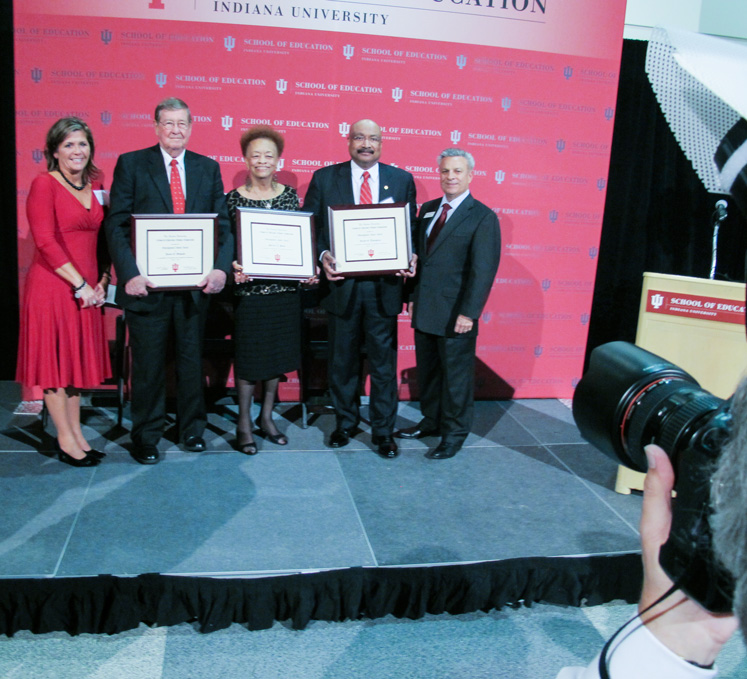 Distinguished Alumni Award winners