IU President to present alumnus Tilaar with Benton Medal during Asia Trip
Indiana University's trip to Southeast Asia starting this week will feature a special presentation to IU School of Education alumnus H.A.R. Tilaar. Tilaar, MS'66, EdD'67 and School of Education Distinguished Alumni Award recipient in 2009, will receive the Thomas Hart Benton Medal on May 28. The Benton Medal is given to individuals who have achieved a level of distinction in public office or service and have exemplified the values of IU.

Indiana University will seek to strengthen its connections with several of the world's leading universities and engage its growing international alumni base during the 11-day, four-country trip.

IU President Michael A. McRobbie, accompanied by Vice President for International Affairs David Zaret, will visit universities in Indonesia, Malaysia, Thailand and Singapore, nations that are home to more than 5,000 IU alumni and where the university has been steadily engaged in educational and development programs, including several that date back more than half a century.

The trip will result in a strengthening of existing connections as well as new academic partnerships that will increase study abroad opportunities in Southeast Asia, support faculty exchanges and help attract more top students from the region to IU.

Tilaar 
"Indiana University has a long and storied history of institution-building and educational development in Southeast Asia, where many of our activities stem from the global vision of IU's legendary 11th president Herman Wells," McRobbie said. "This historic pattern of building has resulted in the development of thriving academic institutions and educational exchanges in a region of the world that, in recent years, has experienced extremely rapid economic and technological growth.

"Our large and growing numbers of alumni from Southeast Asia, and the strong partnerships we have forged with its pre-eminent universities, reflect the impact the region will have on future economic growth here in Indiana, nationally and internationally."

During the trip, McRobbie will sign new partnership agreements with two of the region's consistently top-ranked universities, the National University of Singapore and Indonesia's Universitas Gadjah Mada. He also will meet with representatives from several other leading academic institutions in the region, including Nanyang Technological University in Singapore; Universitas Indonesia; the University of Malaya and Universiti Teknologi MARA in Malaysia; and Chulalongkorn University and the National Institute for Development Administration in Thailand.

IU's partnership with Thailand, site of the trip's first destination, dates back to 1948 and is one of the university's oldest official international relationships. IU helped to develop the Institute of Public Administration at Thammasat University in 1955, as well as 16 teacher colleges in Thailand in the 1960s and 1970s, many of which are now four-year, comprehensive universities. Additionally, several IU presidents have visited Thailand, beginning with Wells, who twice was knighted by the Thai government.

Today, McRobbie will deliver an address to Thai educational leaders at the National Institute of Development Administration on IU's tradition of institution building and the challenges higher education administrators will face in the next decade. Following his address, he will present the Thomas Hart Benton Medal, given to individuals who have achieved a level of distinction in public office or service and have exemplified the values of IU, to NIDA President Sombat Thamrongthanyawong in recognition of his distinguished academic career and IU's longstanding partnership with NIDA.

McRobbie will give a second speech on May 28 at the Indonesian Education Ministry on the U.S. higher education system and engagement with Indonesia, where IU is part of a USAID project emphasizing the development of higher education leadership graduate programs. During his talk, McRobbie is expected to address representatives from about two dozen universities in the region.

Additionally, McRobbie will address IU's Southeast Asian alumni at special events in each of the four countries he will visit. During the alumni gathering in Indonesia on May 28, he will present a second Thomas Hart Benton Medal to IU School of Education alumnus Tilaar, emeritus professor at the State University of Jakarta.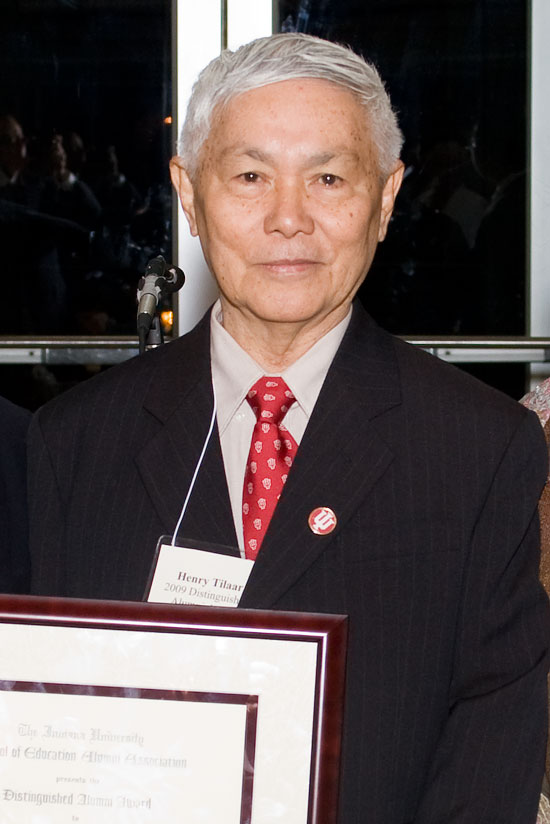 Tilaar with the Thomas Hart Benton Medal