Dean Gonzalez receives honorary degree from Ivy Tech, addresses graduates
Indiana University School of Education Dean Gerardo Gonzalez addressed the Ivy Tech Bloomington 2012 graduates Friday, May 11, at the IU Auditorium as the keynote for the Ivy Tech commencement ceremony. Ivy Tech also presented Dean Gonzalez with an Honorary Associate of Science Degree for College and Community Service. It is the second time, Gonzalez has addressed an Ivy Tech Bloomington commencement.  He also spoke to the graduates in 2007.

Gonzalez began his education journey at a community college, Miami-Dade Community College in Florida. "Education has taken me on a tremendous journey from the humblest of beginnings," he told the graduates. He shared the story of how he came to love learning through his exposure to higher education at Miami-Dade, an unexpected experience that came after he struggled as a Spanish-speaking immigrant student in the Miami school system.  Gonzalez arrived with his family from Cuba in the early 1960s.  He said that the school system at the time was ill-prepared for English language learners such as himself and the difficulties caused him to quietly work his way through school, marking time until graduation.

Gonzalez said that in high school he was tracked into vocational education and enrolled in a co-op program where he attended school half-day and then worked in a men's clothing store, where he planned to work full-time after high school. But after the recession of the early 1970s forced the closing of the store, Gonzalez found himself at a crossroads. A friend suggested something with which he wasn't familiar—college. Gonzalez enrolled at Miami-Dade Community College. "Although I was literally learning about college while in college, with that exposure I quickly realized I wanted to be a lifelong learner," he said. "I didn't imagine where it would lead.  I did know that education had awakened in me a desire for knowledge, the depth of which I had never known."

From there, Gonzalez earned three degrees at the University of Florida and eventually became professor and chair of Counselor Education, associate dean for administration and finance, and interim dean in the UF College of Education. He became dean at the IU School of Education in 2000.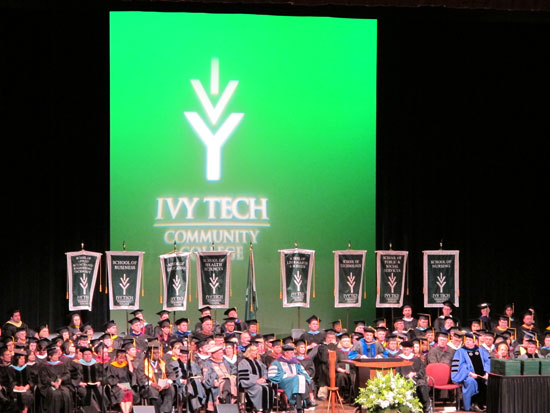 In 2008, Gonzalez was inducted into the Miami Dade College Hall of Fame as his parents proudly watched. While addressing the 2012 Ivy Tech graduating class, Gonzalez said he was honored to not just address the graduates, but also to receive the Honorary Associate of Science Degree. "I know my parents would be equally proud if they could be here tonight to see me receive an honorary degree from Ivy Tech," he said. "I certainly have had a chance to succeed because of the opportunities afforded me through education.  The right people at the right times have helped me climb from being that 'invisible' student in the Miami public schools to being a highly visible leader among schools of education deans in the United States."

Ivy Tech Bloomington Chancellor John Whikehart praised Gonzalez for his story, calling him a model for Ivy Tech students to follow. Whikehart also said the institution honored Gonzalez because of his work making more pathways possible for Ivy Tech students. "He was instrumental in shepherding Ivy Tech's system-wide education degree articulation with IU," Whikehart said. "He has been an involved and visible community volunteer in Bloomington, and was appointed in 2012 by the Speaker of the Indiana House of Representatives, Brian C. Bosma, to the Indiana Commission for Hispanic/Latino Affairs."

A copy of Dean Gonzalez' remarks can be found here.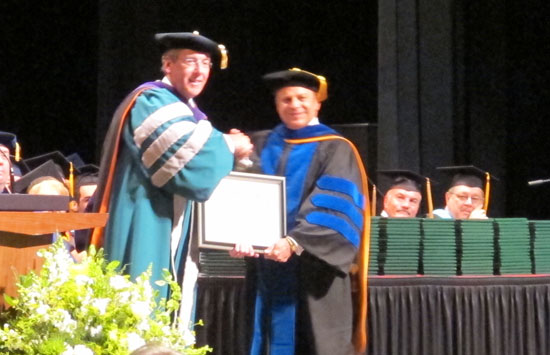 Gonzalez receives an Ivy Tech honorary degree from Ivy Tech President Tom Snyder