School of Education honors May graduates in two ceremonies
You can watch archive video of both convocation ceremonies
The Indiana University School of Education in Bloomington honored its May 2012 graduating class in two ceremonies held Saturday, May 5 at the Wright Education Building. To accomodate the large groups of attendees and graduates, for the first time the School split the event into two separate convocation programs. The noon program featured largely elementary teacher education degree earners while the afternoon program mostly honored secondary teacher education and graduate students.

In remarks to the graduates, Dean Gerardo Gonzalez empasized that each should advocate for education in their respective areas.  Gonzalez cited the example of faculty member Ellen Brantlinger, author of the 2003 book Dividing Classes:  How the Middle Class Negotiates and Rationalized School Advantage, as one of someone who was relentlessly advocating to provide education for all. Brantlinger, a beloved faculty member who died in March, wrote a book the Chronicle of Higher Education dubbed "a take no prisoners ethnography." In it, she challenged the notion of standards and practices that were promoting children who already had an advantage in education at the expense of children from less affluent families. "She challenged everyone in the system—parents, teachers, administrators alike—to think about how they should advocate for every child to have an opportunity to experience the power of education and develop their full potential," Gonzalez said.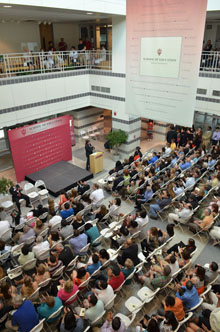 Like Brantlinger, Gonzalez told the new graduates they were required to "shake some trees." "We expect you to share the fruits of what you have learned with everyone you contact in the future," he said. "You should fight complacency, mobilize resources, change public opinion, promote equity for all, and make a positive difference.  That is the role of an educational advocate."

Other speakers included alumni speaker Martha Street, BS'63, MS'66, a School of EducatIon Alumni Board Member. The undergraduate speaker, addressing the noon ceremony, was Courtney Elizabeth Reecer, who just earned her bachelor's in Early Childhood Education. The graduate speaker, addressing the 2:00 p.m. ceremony, was Michael Takafor Ndemanu, who just earned his PhD in Curriculum Studies.

You can see both convocation ceremonies in their entirety. Click here to view the noon ceremony; click here to view the 2:00 p.m. ceremony. You can also view a full gallery of pictures from both ceremonies on the IU School of Education Facebook page, available at this direct link.