Education Week cites Direct Admit Scholars Program for innovation in recruiting high-quality students to teaching
The Indiana University School of Education's Direct Admit Scholars Program was recently cited in Education Week's Quality Counts as one of a handful of U.S. teacher-preparation programs to embrace rigorous recruiting of teachers with strong academic qualifications. Quality Counts is Education Week's annual examination of issues and challenges facing American public schools.

In its story, "Teacher Quality, Status Entwined Among Top-Performing Nations," Education Week reported the following about IU's Direct Admit Scholars Program:
Two years ago, Indiana University began a system whereby those high school students with a minimum of 1100 on their SAT and a 3.7 GPA who are interested in becoming teachers can be directly admitted to its education school…

About a third of those who enter undergraduate teacher preparation now come through the direct-admit program, said Gerardo M. Gonzalez, the dean of the school of education. And the program has had the added benefit of making the school more prestigious.

"High-quality students want to be with high-quality students," Gonzalez says. "We're competing for the best students with every field."

Yet obstacles, both cultural and financial, have served to slow widespread adoption of more-rigorous recruiting endeavors in the United States.

"I think there's a lot of validity to the argument that when you raise standards, you attract better-quality students," Gonzalez says. "But there's also, I think, the understanding that, in many cases, institutions are working against significant social and professional attitudes, and frankly, the reality of the marketplace. They will not always be able to recruit the kinds of students they want to because of the competition."
The entire Education Week story is available (subscription required) at http://www.edweek.org/ew/articles/2012/01/12/16teachers.h31.html?print=1.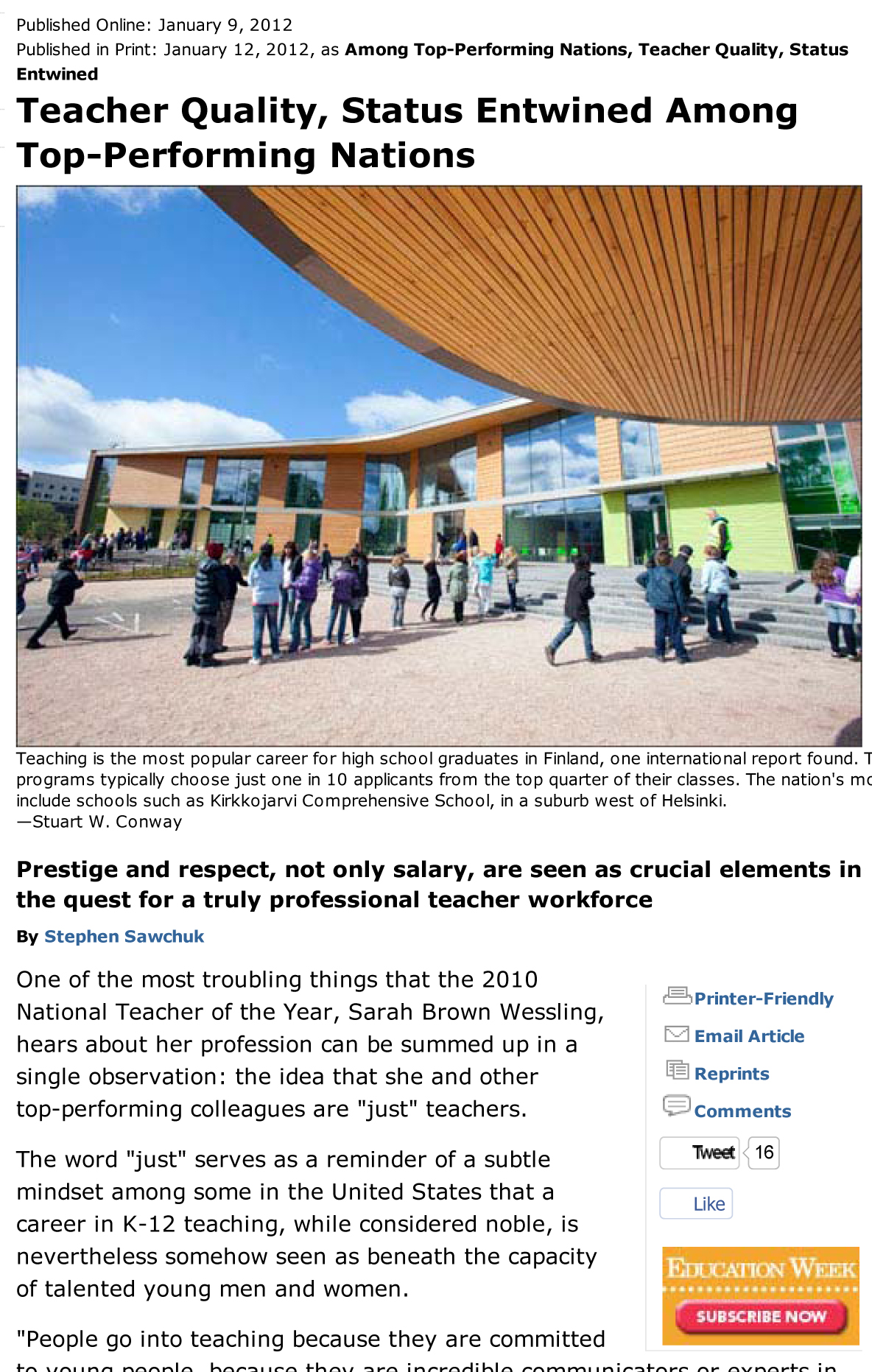 Teacher Quality, Status Entwined Among Top-Performing Nations