Journalism and education schools sponsor 'IU Bee,' a Scripps Regional Spelling Bee
Two schools at Indiana University Bloomington partnered to sponsor the Scripps Regional Spelling Bee.

The IU School of Journalism and the IU School of Education presented the annual spelling competition on Saturday, Feb. 25, at the Monroe County Public Library, 303 E. Kirkwood Ave. in downtown Bloomington. The IU Bee competition served as the Scripps Regional Spelling Bee for Monroe and four other south-central Indiana counties. About two dozen area students through Grade 8 who have won spelling bees at their schools competed.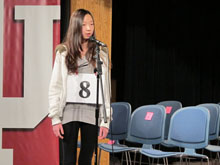 This year's winner was a repeat champion. Bee Byoul (Star) Han (pictured at right) of University Elementary correctly spelled "fete" (a verb, meaning "to pay high honor to") to clinch the victory following several rounds with the strong runner-up, Brown Co. Junior High's Mary Skirvin (pictured at the microphone below as she and Han competed in the final rounds). Han also won the bee last year. She now travels to the semifinals and championship finals in National Harbor, Md., May 29 to 31.

IU High School Journalism Institute director Teresa White directed the bee this year. "It's a wonderful opportunity for us to recognize and celebrate the accomplishments of students who share our love for language," White said.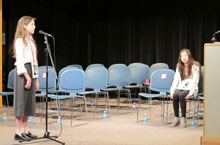 The (Bloomington, Ind.) Herald-Times and the (Martinsville, Ind.) Reporter-Times co-sponsored the bee from 2004 until last year.