Half of Indiana nominees for presidential award for teaching math and science are SOE alumni
State's selections for PAEMST award finalists announced
Three alumni of the Indiana University School of Education are among the 6 Indiana finalists for the Presidential Award for Excellence in Mathematics and Science Teaching (PAEMST), the highest recognition that a kindergarten through 12th-grade mathematics or science teacher may receive for outstanding teaching in the U.S. The awards alternate between secondary and elementary teachers annually.

The Indiana nomniees include two of the mathematics finalists. Sandra Baker, BS'04 in elementary education and MS'10 in secondary education from the IU School of Education at IUPUI, is a teacher at Lincoln Middle School in Indianapolis. Arsenal Tech High School math teacher Hillary Zortman is another nominee. She earned her bachelor's in math education from the the IU School of Education in Bloomington in 2002.

In the science category, Stacy McCormack, the 2011 Indiana Teacher of the Year and a teacher at Penn High School in Mishawaka is a nominee. McCormack earned her bachelor's in chemistry education at the IU School of Education in Bloomington in 1999. She was also selected as an Armstrong Teacher Educator at the IU School of Education for the 2010-11 academic year.

You can read more about the nominees for the presidential award in this news release from the Indiana Department of Education.

PRESS RELEASE    Media Contact: Joseph Cortes-Gurule
For Immediate Release    (317) 232-6617
Monday, February 13, 2012    jcgurule@doe.in.gov

Math and Science Educators Nominated for Presidential Award
Indiana Superintendent of Public Instruction Dr. Tony Bennett recognized six nominees for the 2012 Presidential Awards for Excellence in Mathematics and Science Teaching (PAEMST) at The Eugene and Marilyn Glick Indiana History Center today. The PAEMST awards are the nation's highest honor for teachers of mathematics and science. 

"I congratulate these extraordinary educators for receiving this distinguished honor," Dr. Bennett said. "To make sure all students are college and career ready, we need a great teacher in every classroom—especially in the areas of science, technology, engineering and mathematics. Mastering these subjects is critical for our students to be successful in our 21st century economy.  These finalists exemplify the very best of STEM educators."

Created in 1983 by the U.S. Congress, the PAEMST awards recognize excellence in math and science instruction across the United States. The awards are administered for the President by the National Science Foundation and presents up to 108 awards each year.

The award is given to elementary teachers (K-6) in even-numbered years and to secondary teachers (7-12) in odd-numbered years.  Nominees go through a rigorous application process in which they submit a videotaped unit and lesson with comprehensive reflection. The applications are reviewed by an independent panel of education experts, and the National Science Foundation selects the final state awardees.

For 2012, three secondary mathematics teachers and three secondary science teachers were nominated. 
   
Mathematics Finalists:
•         Sandra Baker, Lincoln Middle School, Indianapolis
•         Natalie Schneider, Belzer Middle School, Indianapolis
•         Hillary Zortman, Arsenal Technical High School, Indianapolis

Science Finalists:
•         Liviu Haiducu, Avon High School, Avon
•         Christina McCarter, Brebeuf Jesuit Preparatory School, Indianapolis
•         Stacy McCormack, Penn High School, Mishawaka
   
For more information on the Presidential Awards for Excellence in Mathematics and Science Teaching, visit www.paemst.org.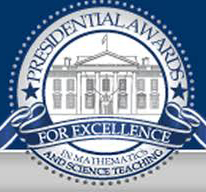 Presidential Award for Excellence in Mathematics and Science Teaching