School of Education students and faculty recognized for contributions on MLK Day
Two Indiana University School of Education students and a faculty member received honors during the annual Dr. Martin Luther King, Jr. Leadership Breakfast on Jan. 16 noting their contributions to work on issues of social justice and equity. Gus Weltsek, coordinator of the IU Drama and Theatre in Education License Program and Ivy Tech Community College Theatre and Arts Integration Curriculum Development Specialist for the Waldron Arts Center, received the "Building Bridges Award" for faculty, community member, or organization. Mahauganee Shaw, a PhD candidate in the Higher Education and Student Affairs program, earned the honor for the graduate student category. Education student Juan Cano was the Building Bridges selection for IU undergraduate students.

The Building Bridges awards are given annually at the IU MLK Leadership Breakfast to honorees who promote the legacy, vision, and spirit of Dr. Martin Luther King, Jr. on the IU Bloomington campus or within the Bloomington community.

Since joining the IU faculty three years ago, Weltsek has worked toward making the arts a tool to explore issues of equity and social justice. He led pre-service teachers at the IU School of Education to form the Arts in Education Club and has put together dramatic performances and workshops demonstrating techniques for using the arts in this way. The club has brought students, faculty, staff, and community members together for performances of The Laramie Project, dealing with the brutal murder of Matthew Sheppard a gay student at the University of Wyoming. The next performance was Anna Deavere Smith's play Twilight:  Los Angeles, 1992, confronting the issues presented by the beating of Rodney King and the riots afterward (a video about this production is on the IU School of Education YouTube page; you can read a student reflection about participating in this production here).  Weltsek has also used drama as a way of helping students in a Gary, Ind. school develop writing and literacy skills. Workshops on the "Theatre of the Oppressed" technique, designed to use theatre as a tool to develop critical consciousness surrounding issues of social injustice, have been so successful another workshop is planned for this summer. "It is his ability to be constantly engaged in examining how his artistic work serves to frame critical practices that makes his work deserving of Rev. Dr. Martin Luther King's Building Bridges Award," the nominator wrote in putting Weltsek's name forward for the honor.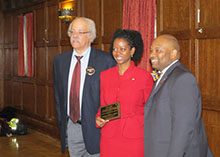 PhD candidate Shaw has been an active community member since beginning her graduate studies at IU in 2007.  A project associate in the Center for Postsecondary Research, Shaw has been actively involved with Second Baptist Church, the Bloomington Alumnae Chapter of Delta Sigma Theta Sorority, Inc. (Financial Secretary, Chaplain and Risk Prevention officer), an IU graduate student emissary, and the Black Graduate Student Association (member and president 2008-2009). She has presented to students at such conferences as the IU Men and Women of Color Leadership and the National Panhellenic Council (NPHC) retreat for IU undergraduates. She has worked tirelessly as Black Graduate Student Association President to assist underrepresented populations, particularly through events she organized. As a member of Delta Sigma Theta Sorority, Inc., she's planned community trips to the Underground Railroad Freedom Center in Cincinnati, an annual Jazz Night, and the Black History film series. Shaw mentors local Bloomington youth through Delta Academy. "Mahauganee pays it forward," her nominators wrote. "It is one thing for her to assist her graduate student peers; however, it is another thing to serve those younger than and/or less fortunate than her. Mahauganee's local involvement is service at its finest, does not discriminate, and is evidence that she is a champion of serving diverse populations."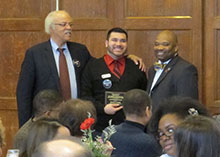 Cano has been active in the IU community on many fronts since first coming to campus in 2009 in the Groups Student Support Program. He became an active member of the Multicultural Outreach Recruitment Educators (MORE) in his freshman year, volunteering in virtually every program as well as participating in student panel discussions and student visits. Cano represented IU at the 100 Black Men of Chicago College Fair, focusing on recruiting students from underrepresented groups. Later, he became co-director of MORE and took on responsibilities of resident assistant and a summer orientation leader. Cano has co-chaired the Indiana Latino Leadership Conference at Ball State University. He is a regular volunteer at La Casa, the Latino Cultural Center at IU. Cano is an education major with a minor in journalism.

For more about the MLK Day Celebrations on the IU campus, visit http://www.indiana.edu/~mlkjr/.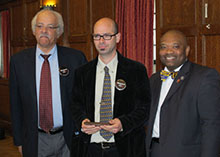 building bridges weltsek