IU School of Education among the top online education programs in US News rankings
The Indiana University School of Education in Bloomington is highly ranked in the first US News & World Report ranking of top online graduate education degree programs unveiled today, Jan. 10, on the publication's website. Over 160 institutions offering online graduate degree programs in education participated, and the IU School of Education ranked in the upper tier in each of the four categories.
The IU School of Education ranked highest in the category of "Admissions Selectivity," at 15th, reflecting the fact that it's attracting high-achieving students from around the world. Under the methodology used by US News, the IU School of Education scored 82.3 out of a possible 100 points in this category, compiled by measuring entering student GPA and GRE scores, the acceptance rate for the program, and the standardized test and essay required for program application. The School of Education also ranked highly in "Student Services and Technology," coming in at 30, due largely to a variety of technologies used to create interactive learning environments and provide support to online students.
The School of Education also placed in the upper tier for the categories of "Faculty Credentials and Training" (43rd) and "Teaching Practices and Student Engagement" (50th).
US News produced the new rankings in an effort to provide more information about online education programs. The rankings of online programs include education, business, computer information technology, engineering and nursing.
"The School of Education is a leader in online distance education," said Gerardo Gonzalez, dean of the IU School of Education. "While designing, offering and researching innovative online education for more than a decade, our faculty has been absolutely committed to the highest standards of best practices. I'm glad to see the quality of our programs recognized through these new national rankings."
The first online courses and degree programs began at the IU School of Education in 1999. In the fall semester of 2012, the school will offer IU's first completely online doctorate, the Ed.D. in instructional systems technology. The school has launched IUconnectED, a new Web portal that conveniently coordinates access to the school's online learning programs, including graduate-level courses and programs from the Bloomington and Indianapolis campuses. Through IUconnectED, students can take a variety of courses to earn credentials ranging from professional certificates to master's degrees and online doctorates.
The complete list of online program rankings is available at www.usnews.com.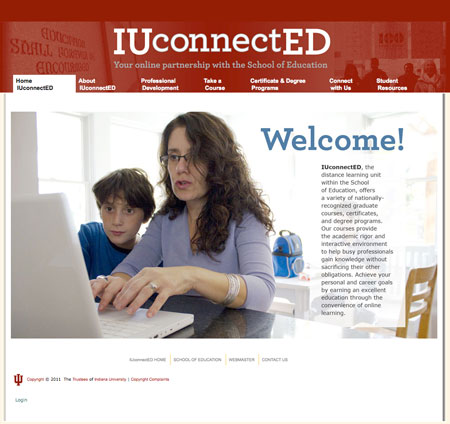 School of Ed Rankings